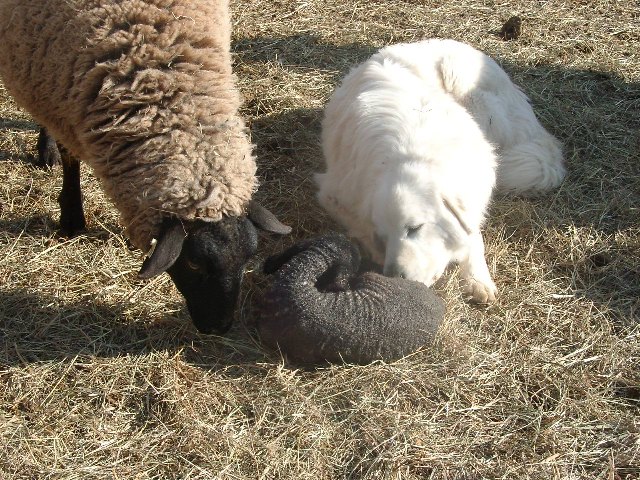 The Maremmano Abruzzese, or Maremma Sheepdog, is one of about 10 different breeds of Livestock Guardian Dogs. Although its exact date of origin is unknown, the Maremma can be traced back to Italy over 2,000 years ago.  The early shepherds of Abruzzi culled their dogs very severely, and only the most promising pups were kept for replacement stock. Because of this harsh selection, the Maremma has retained its natural guarding instinct.
The Maremma is majestic in appearance, with a broad head and gentle expression. They maintain a luxurious coat of long white fur which typically sheds out once a year. They have beautiful dark almond shaped eyes along with a darkly pigmented nose and muzzle. It is not uncommon for these dogs to reach 85 -100 pounds and 24-29 inches in height at full maturity. Overall, the Maremma tend to be a very healthy and hardy animal. They can withstand the coldest of climates, and do equally well in the summer if provided adequate shade and water. They are not recognized by the American Kennel Club, but registered with the Maremma Sheepdog Club of America, or MSCA. The MSCA strives to maintain the Maremma for the sole purpose of guarding livestock.
Although Maremmas are independent thinkers by nature, they develop a strong sense of attachment to whatever type of livestock they are reared with. They can be imprinted on sheep, goats, alpacas, horses and even poultry. If your goal is to raise a Maremma exclusively for livestock guarding, then it is essential to limit the amount of human interaction with your pup. Some people suggest only interacting with them at feeding time to avoid interfering with the pups' attachment to the livestock. However, a certain degree of contact is necessary so your dog becomes familiar with your role on the farm and respects you as the authority figure. In addition, it is helpful to condition the dog to handling as this is necessary to administer vaccines. The most critical period of bonding takes place between 8 and 16 weeks of age. During this time, it is essential to have your pup penned near the livestock that he or she is going to be guarding. You can also put him in with the livestock several times a day, being careful to supervise their interaction. One should never leave a young pup unattended with the stock! This can be dangerous not only to the pup but to the livestock as well. As your pup begins to mature, he can be left alone with the stock for short periods of time. It really depends on the individual dog and his level of maturity, but most can be put out with the stock beginning at about 6-8 months. This being said, remember he is still a puppy at this age and will interact with the livestock the same as he would with his siblings, so it is important to watch him closely! It is also important to remember to choose stock that are not being raised for market. Ideally, you want your dog to bond with animals he will be spending much of his lifetime with.
Maremmas tend to be very affectionate dogs, with people and with livestock. You will frequently see them licking the muzzle of a sheep or assisting a ewe in cleaning her newborn lamb. If raised with young children, a Maremma will nurture and protect them just the same as they will livestock. However, because of this strong protective nature it is critical to supervise if neighborhood children come over to play. If the children get too rambunctious, your dog may not recognize this as play and ultimately perceive the other child as a threat. Although Maremmas are rarely provoked to attack, it is best to be vigilant where children are involved.
When an actual confrontation does occur, Maremmas are much more inclined to try to frighten off a predator rather than facing a physical altercation. They will employ warning signals such as barking, snarling, body blocking or making false charges at the offender. Only as a last resort will they attack and kill. Another common approach that Maremmas utilize is scent marking to ward off predators. This is accomplished by patrolling the boundaries of their territory and stopping to urinate frequently along the way. Scent marking is a very powerful and effective form of communication in the canine world.
A Maremma can be a valuable asset to the modern day shepherd as well as the small family farm enjoying the lifestyle of sustainable agriculture. They do not thrive well in an urban environment where there is constant traffic of strangers passing by. Maremma are large dogs which require ample space to exercise and a fairly constant routine. Unfortunately, sometimes these dogs wind up in the wrong situation and eventually find their way to a shelter. Some are lucky enough to be re-homed but many result in being euthanized. It is very difficult, if not impossible to establish a strong attachment to livestock after being raised in a family setting. If you are considering the addition of a livestock guardian to your herd, please do your homework before making this decision.
Please visit our FAQ page for more details!
Colleen Williams, CVT